Visitors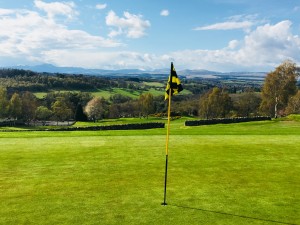 Visitors are welcome all year round at Bridge of Allan. Visitors are welcome and all rounds have to be pre-booked via our online booking system, please though keep up to date with COVID-19 guidance Scottish Golf advice to golfers 
Whether you're here for the views or to test yourself against this tricky 9 hole course you will be made to feel welcome by all here.
In celebration of our 125 years, 1895 to 2020, we commissioned a 'flyover' of our course showing the wonderful views and autumn colours off to their best, take a look at our 125th Anniversary Flyover and enjoy the course!
If you are wanting to play our course as part of the #1895 Club or reciprocal arrangements, check out our guidance here
Don't fret if you're a high handicapper. Though Bridge of Allan will push your ability to shoot low, it won't give you a beating, and there are some birdie opportunities.
The facility also includes a small practice area and nine-hole putting green.
The club house lounge is open every day during the golfing season from 11am where you will be able to pop in for some of the wonderful food during your visit, or feel free to relax in our newly refurbished lounge after your round for your 19th (or 10th) hole.
Golf Course Risk Assessment – All visitors should familiarise themselves with the contents which are designed to ensure that all golfers remain as safe as possible on the golf course Read more
If you have played the course recently please leave us some feedback on either Trip Advisor or Google at the bottom of our Home Page,  we are always keen to hear from visitors!
If you have a general query that cannot be answered by viewing our webpages, please email the Club Secretary at secretary@bofagc.com  Do check out our 'memberships' page if you are interested in joining or have a look at our 'book now' page if you are wanting to visit to play golf. For large group bookings, please view our Groups and Societies page.