New to golf at Bridge of Allan!
Membership at Bridge of Allan opens the door to a wonderful world of golf, friendship and hospitality. With a 'challenging but fun'  9 hole golf course, practice facilities and a modern refurbished clubhouse everything is set up for the benefit and enjoyment of its members.
New members of all ages and abilities are always welcome. Whether you are new to the area or even new to the game there is no better or more welcoming club in which to learn, practice or play and we provide a range of competitions and matches for all ages and abilities.
Whilst for the serious golfer we offer all the challenge, competition and friendship you could ever need. If you are a social golfer then you will find lots of opportunities to play golf with friends, for competitive golfers the club holds competitions both during the week and at weekends throughout the summer and has a flourishing Sunday League during the winter months.
We have a flexible approach to potential new members visiting, as we understand that you have many other commitments in your life and a particular 'new members open day' might not fit into your schedule. Therefore, If you would like to try us out, email either the membershipsecretary@bofagc.com or marketing@bofagc.com to arrange to play a few holes with a club member, at a day and time to suit you. Here, you will be able to find out more about the course and also our 19th hole hospitality! Alternatively you can book a round here 'book now' to get started!
To find out more out our membership categories click on the link.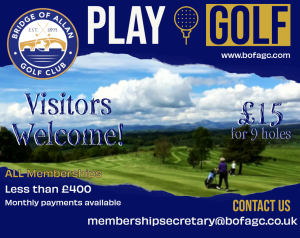 Don't forget, if you chose to play  18 holes, this fee can then be deducted from your membership fee if you decide to join us.
We look forward to seeing you!