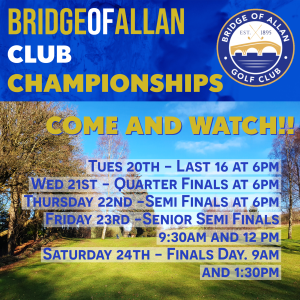 After three rounds of qualifying for both the Club Championship and the Oliphant Trophy Handicap Championship, those who are progressing to the knockout stages have been identified and notified.
Thanks you to everyone who took part in the qualifying process. The competition for both Cups was tight and the knockout phase will be played this week before the finals day next Saturday.
The calendar for the week is as follows:
Tuesday 20th : Oliphant Trophy Last 16 from 18:00
Wednesday 21st : Championship & Oliphant Trophy Quarter Finals from 18:00
Thursday 22nd : Championship & Oliphant Trophy Semi Finals from 18:00
Friday 23rd : Senior Championship Semi Finals
Saturday 24th : Finals Day. 09:00 and 13:30 tee times for Championship Final
Please feel free to come up, watch the golf and support those who are taking part both during the week and on finals day. Hopefully the good weather stays with us for this week and we get some close ties and some good golf to watch.