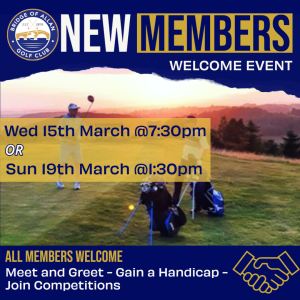 As a Committee, we have been looking at ways in which we can support new and less experienced members to make the most of their membership with Bridge of Allan Golf Club.
At the start of the 2021 season, we reached out to new members to welcome them to the Club by inviting them to a New Member Event in the Clubhouse. This year I would like to broaden the invite to all members, as we recognise existing members may also appreciate support.
To this end we will be holding a revamped New Member Event in the Clubhouse on 2 dates in March, if you would like to attend, please confirm this by responding to 
membershipsecretary@bofagc.com
, advising of which event you would prefer to attend:
Wed 15 March at 19:30 
Sun 19 March at 13:30 
At the meeting you'll be able to sit back, enjoy a drink from the bar, whilst we cover the following topics:
The Club in general
Obtaining and maintaining a handicap
Competitions
The Clubhouse
The DIP Scheme
Bar Card
Our aim is to give new members an overview of how the club operates, the activities you can get involved in and the support we can offer you. If you are an existing member who is looking to gain a handicap but feel unsure on how to achieve this or would simply like to meet other golf buddies, this may also be an excellent opportunity for you.
Following these events, we will be ringfencing tees on the afternoon of 26th March, solely for attendees of the meetings. This will be a safe, no pressure environment where we will play 9 holes around the course; subject to favourable course conditions, we are hoping those interested will be able to submit their first card toward their handicap. These groups will be led by Club representatives who will be able to support and answer any questions you may have.
Two areas we are very keen to focus on and demystify are Handicaps and Club Competitions. Both of these are a wonderful part of the game and are a way to meet new golfers and make great friendships. As detailed above we will cover both elements at the New Member Meetings.
Please indicate in your email what you will be looking to get from the meeting.
We look forward to meeting you!!