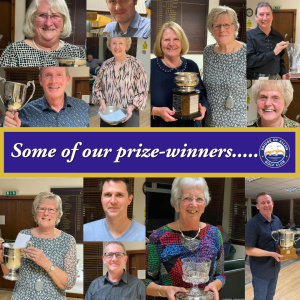 We had our Annual Prize Giving on Saturday night and it was a great night.
First and foremost a major "thank you" has to go to Helene and Jimmy for putting on such a lovely evening. They served us haggis, neeps and tatties and worked hard all night to make sure everyone had a good time. A big shoutout also has to go to our Match Secretary, Graeme Cameron, for all of his hard work organising the prizes and for polishing all of those trophies!
The biggest winners of the night were Scott Mackenzie and Mary Watson. Our new Club Champions! Some phenomenal play throughout the year to pip their runners up Jamie Drummond and Isabel MacFarlane at the post.
There was a massive list of trophies given out on the night and if you want the full rundown of the winners, you can go to your Club V1 app, scroll down to "Documents" and open the folder "Competition and Handicapping". You'll find the full list in there.
Some winners couldn't make it on the night, they can pick up their Scottish Golf vouchers at the Clubhouse Bar.
Glad everyone enjoyed the disco and we can't wait to do it all again next year!!